Non-Electric Double Stage Home filtration, Model-L
Unit Price :

USD 83.00 - USD 83.00 / Unit

Min. Order: 1 Unit

Max. Order: 5 Unit

Price :

| Quantity | Price | Processing time |
| --- | --- | --- |
| 1-5 | USD 83 | 2 Days |

Quantity :

Unit

Shipping Cost :

Total Price :
Payment Method :
Last Updated : 2016-09-06 13:33:46.0
Item specifics
Model :

WHF-122L

Origin :

Taiwan, ROC
No discharge of waste water,
Zero power,
Environmental protection and energy saving.

Filter bacteria, retention minerals, safe and reliable.
Different materials, different functions and lifetime, separate installation economical and practical.
Rapid and easy install, applicable home use.
- Stage1 10" PP & Carbon Filter (WHP-191)
- Stage2 10" UF(Hollow fiber membrane) Filter (WHP-093)
Effect:
Stage1 filter out large particles of impurities and filter out chlorine and odor.
Stage2 the hollow fiber membrane filter has a very high effectiveness in removing bacteria (for example, Campylobacter, Salmonella, Shigella, E. coli) and in removing protozoa (for example, Cryptosporidium, Giardia).
Hollow fiber membrane each filter pore size is 0.1 micron,
while the smallest bacteria are greater than 0.2 micron.
This makes it nearly impossible for harmful bacteria to pass through water filter.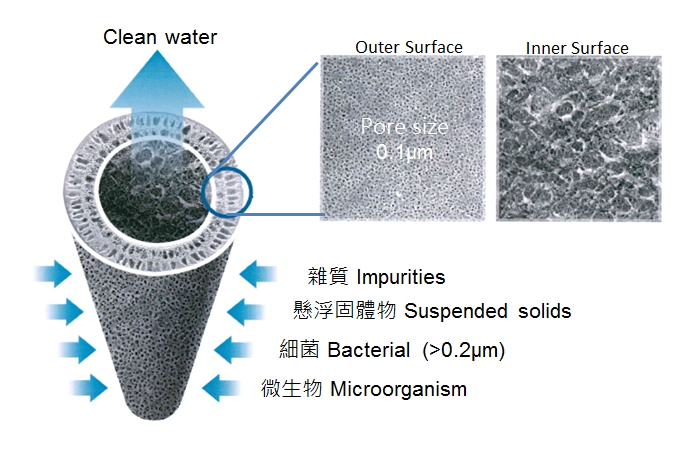 Unlike Birta, 3M and other activated carbon filter or EVERPURE other ceramic filters, the filtering effect of the 0.1 micron pore size hollow fiber membrane more reliably.
Calculate your shipping cost by country/region and quantity.
Quantity : Unit , Ship to :
| Shipping Company | Shipping Cost | Estimated Delivery Time |
| --- | --- | --- |
| Accepted payment method | Currency |
| --- | --- |
| | EUR , TWD , USD |
Warranty & Return Policy:
All items will be tested or checked carefully and packaged in good condition before sending out to you.
Some faulty items might happen especially after overseas transportation. We offer 15 days On Arrival Replacement Warranty from the date of receipt.
You will be responsible for the returning shipping cost, and we will ship the replacement at our cost after receiving the returned item. Please contact us for details before sending the item back to us.
Replacement or refund will be issued after the items are received by us.