010 Series Pocket water filter (Portable water filter)
Unit Price :

USD 36.00 - USD 36.00 / Unit(s)

Min. Order: 1 Unit(s)

Max. Order: 5 Unit(s)

Price :

| Quantity | Price | Processing time |
| --- | --- | --- |
| 1-5 | USD 36 | 2 Days |

Filter Color :

Quantity :

Unit(s)

Shipping Cost :

Total Price :
Payment Method :
Last Updated : 2017-09-27 23:30:38.0
Item specifics
Model :

Pocket filter

Origin :

Taiwan, ROC
Better than B-brand , protect you from salmonella
Outdoor
Are you concerned about drinking water while traveling? Do you believe what you buy is what you see? Is it a mineral water or as pure as it tells us?
The new Pocket water filter (Portable water filter) is specially designed for businessmen and travelers. It is portable and can easily be attached to a water bottle to filter the contents.The Pocket water filter (Portable water filter) is not only for leisure and travel, it can be installed onto a tap while you are at home or in hotel room. It is highly useful.
Indoor
In daily life, filter tap water, water dispenser, to ensure that do not drink bacteria.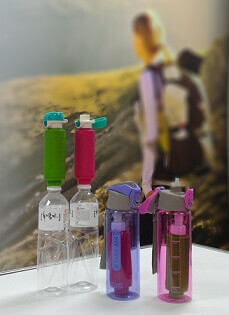 Protect from sick
The Pocket water filter (Portable water filter) has a pore size of 0.1 micron, while the smallest bacteria is larger than 0.2 micron. The filter has a very high effectiveness in removing bacteria (for example, Campylobacter, Salmonella, Shigella, E. coli) and in removing protozoa (for example, Cryptosporidium, Giardia). Minerals are not removed from the water by the pocket water filter.No need for hand pressure as water flows freely through the patented pocket water filter when attached to a water bottle.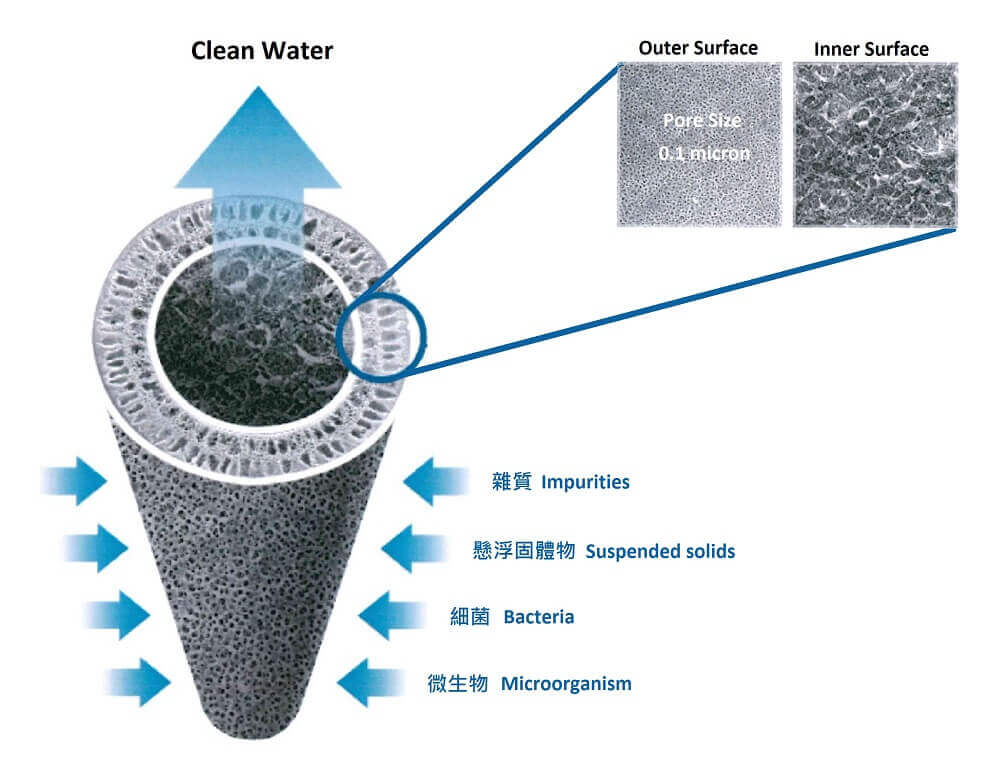 The Pocket water filter (Portable water filter) is totally mobile, it can be used while traveling, camping, mountain climbing, at school, at home, in a hotel room and dormitory.
Application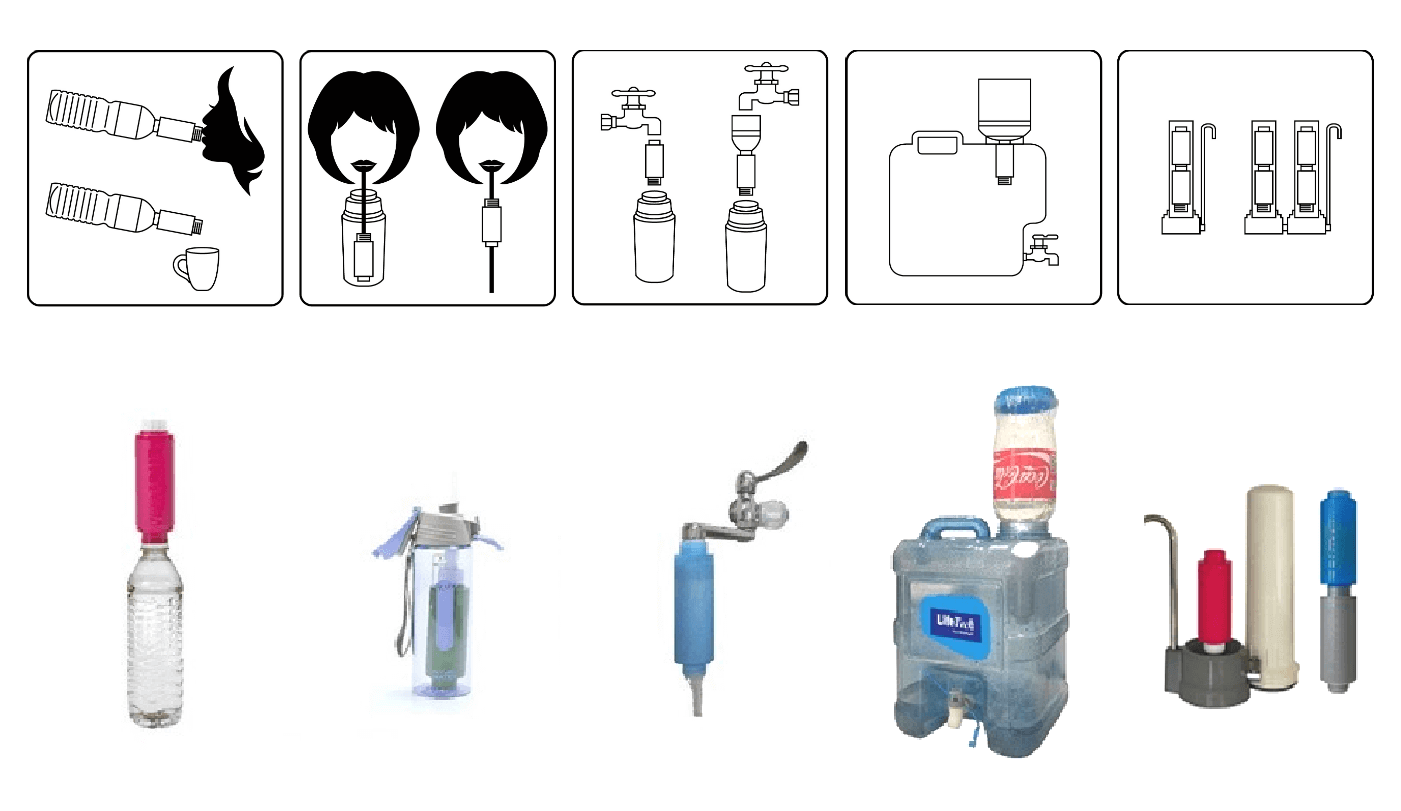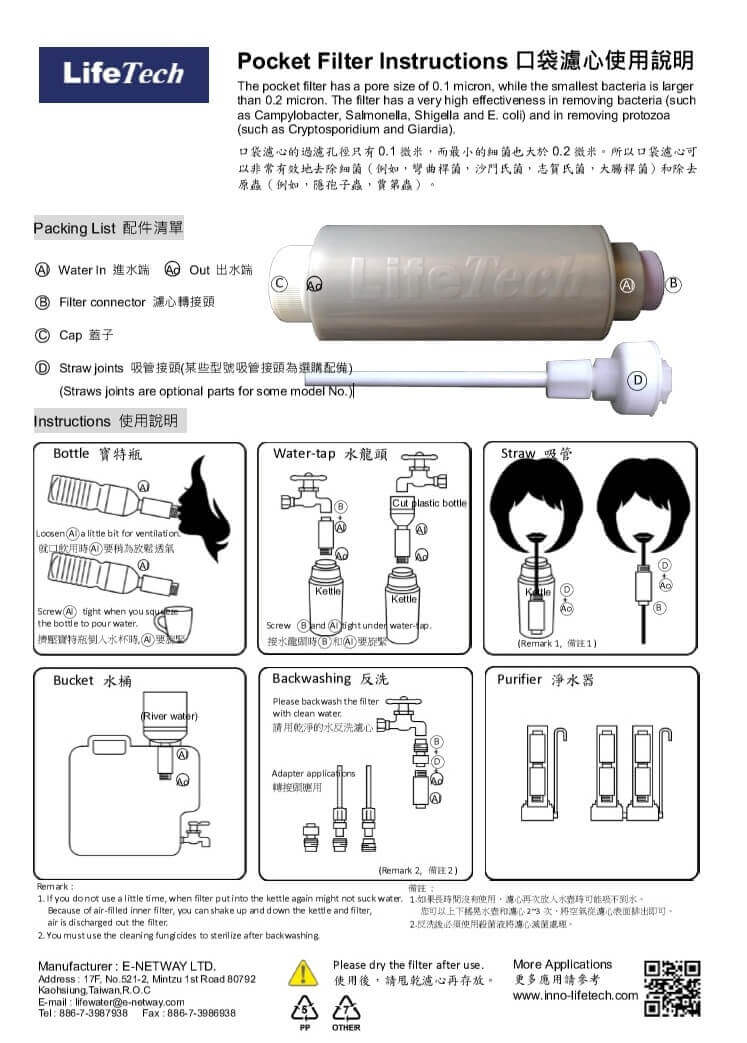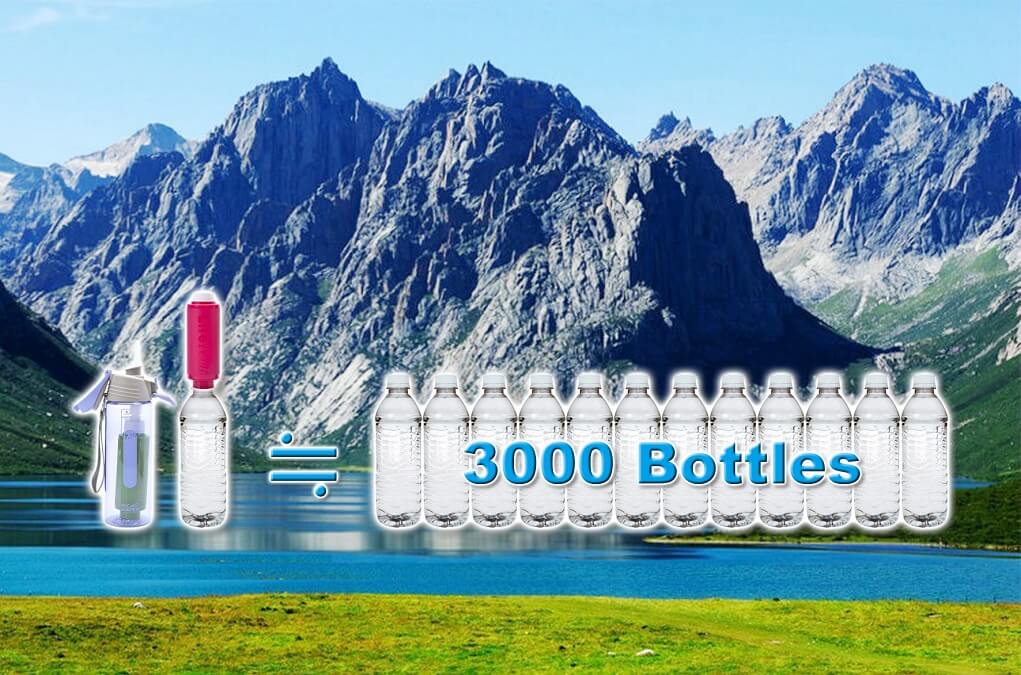 More information, please visit idealez or www.inno-lifetech.com or www.e-netway.com
Certifications & Award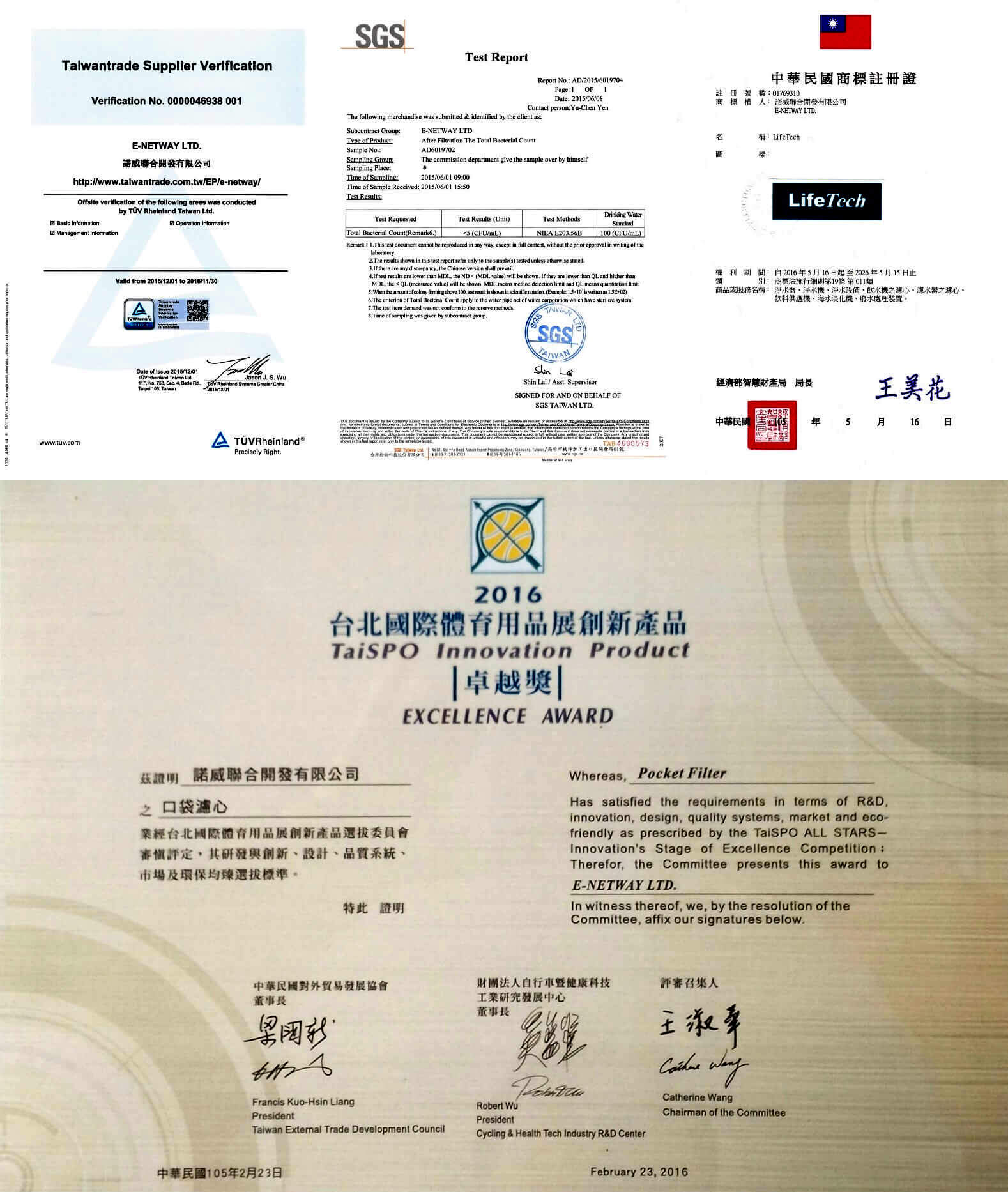 Details Table
Place of Origin

Taiwan

Brand Name

LifeTech

Certification

AD/2015/6019703 Test report by SGS

Filter Material

Ultrafiltration (UF) Hollow fiber membrane

Housing Material

PP

Effect

Filter out bacteria and parasites

Operating water temperature

4~40°C

Filter Size

46mm(D) x 130mm(L)

Filter Weight

120g

Application

mountain climbing, upstream, camping, travel, school

Sales Channel

Outdoor goods shops, Traveling attractions gifts shops

Home water purifier shops, student supplies shops

On-line shops
B-brand filter vs LifeTech Pocket filter
| | | |
| --- | --- | --- |
| | B-brand | LifeTech |
| material | Activated Carbon | Ultrafiltration (UF) Hollow fiber membrane |
| specification | Reduce Chlorine | Remove Baterium Lager than 0.1 Micron |
| lifespan | 150L;2month | 2000L |
| Water Source | tap water | tap water,river,lake |
| Drink Directly | No recommend | Yes |
| Vessel | Kettle | Kettel,PET botteles |
Calculate your shipping cost by country/region and quantity.
Quantity : Unit(s) , Ship to :
| Shipping Company | Shipping Cost | Estimated Delivery Time |
| --- | --- | --- |
| Accepted payment method | Currency |
| --- | --- |
| | EUR , TWD , USD |
Warranty & Return Policy:
All items will be tested or checked carefully and packaged in good condition before sending out to you.
Some faulty items might happen especially after overseas transportation. We offer 15 days On Arrival Replacement Warranty from the date of receipt.
You will be responsible for the returning shipping cost, and we will ship the replacement at our cost after receiving the returned item. Please contact us for details before sending the item back to us.
Replacement or refund will be issued after the items are received by us.