Cordycpes capsulse high polysaccharides immune system enhancer
Unit Price :

USD 35.00 - USD 35.00 / Unit(s)

Min. Order: 3 Unit(s)

Max. Order: 20 Unit(s)

Price :

| Quantity | Price | Processing time |
| --- | --- | --- |
| 3-20 | USD 35 | 10 Days |

Quantity :

Unit(s)

Shipping Cost :

Total Price :
Payment Method :
Last Updated : 2018-03-28 11:26:46.0
Item specifics
Origin :

Taiwan, ROC

Certification :

ISO22000:2005;HALAL;TUV;HACCP;ISO 9001 2008
Cordyceps Sinensis Mycelium
cordyceps sinensis mycelium extract powder
As Cordyceps products' potency gained world attention, their large demand leaves the market with concerns about purity and safety. To control the quality of Cordyceps products, the Chinese SFDA approved Cordycpes as the official substitute for the conventional Cordyceps sinensis. The manufacture of Cordyceps follows a standardized quality protocol, providing the world with even better option for Cordyceps products.
Key features:
Higher polysaccharides ( > 15% )
SFDA approved, official substitute for Cordyceps sinensis
Paecilomyces hepiali mycelia extract powder yarsagumba
The ITS1/ITS2 rDNA sequence of GeneFerm's Cordyceps was verified by Taiwan FIRDI to ensure purity of selected strain, purity guaranteed.
Product information :
Sample Ingredients: Paecilomyces hepiali mycelia extract powder
Package:(picture above is for reference, actual sample product is in Chinese/english)
60 capsules / brown TDC 225c.c bottle / box
If you have other requirement for sample formula and package, please contact us.
About GeneFerm
Manufacturing Capability of GeneFerm
GeneFerm provide different service for you, from finished product, ODM, toll manufacturing, fermentation toll manufacturing. Fermentation ability is from 50 L to 55.000 L., and we have big capacity in downstream process like extraction, purification and recovery. Also, various form of finished product, such as capsule, sachet, spout pouch is available. For more information please visit our web: www.geneferm.com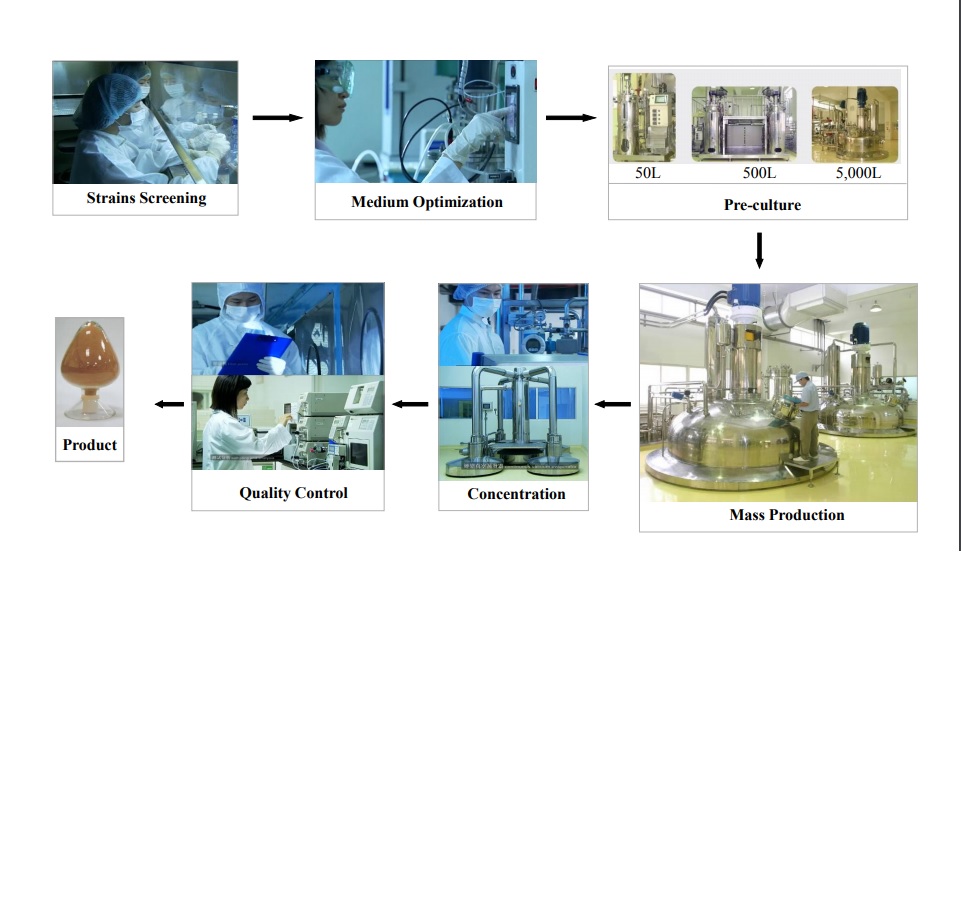 Calculate your shipping cost by country/region and quantity.
Quantity : Unit(s) , Ship to :
| Shipping Company | Shipping Cost | Estimated Delivery Time |
| --- | --- | --- |
| Accepted payment method | Currency |
| --- | --- |
| | TWD , USD |